Our Major

Blockchain Projects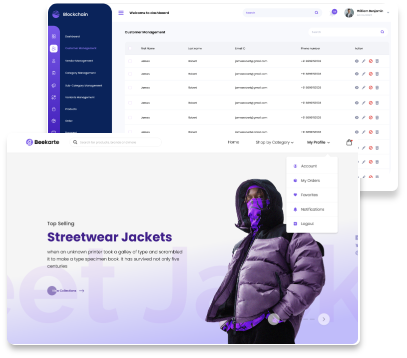 BitMarket is an innovative and revolutionary website that seamlessly integrates cryptocurrency functionality to elevate the digital shopping experience. By incorporating Bitcoin, this platform transforms how users make purchases, showcasing the transformative impact of cryptocurrencies on the financial sector.
Learn more about BitMarket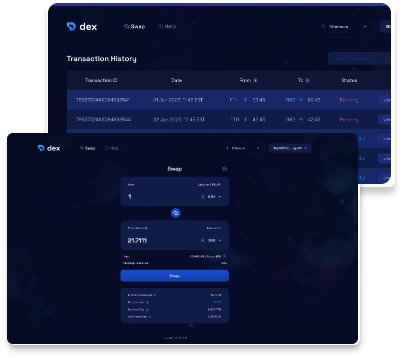 DEX, developed by Spericorn Technology, addresses the growing demand for secure digital asset exchanges worldwide. This advanced platform ensures a reliable and seamless experience for users looking to swap various cryptocurrencies, promoting confidence in digital transactions.
Learn more about DEX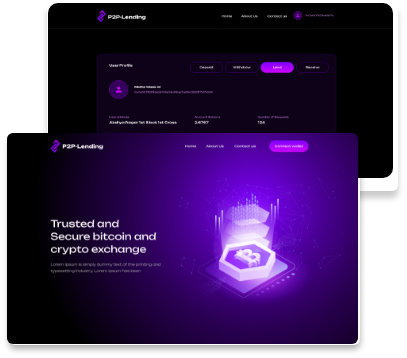 Leveraging blockchain technology, Spericorn Technology has created a peer-to-peer (P2P) lending platform that disrupts traditional borrowing and lending practices. Our platform fosters trust between borrowers and lenders by offering security and transparency, redefining lending in the ever-evolving finance landscape.
Learn more about P2P Lending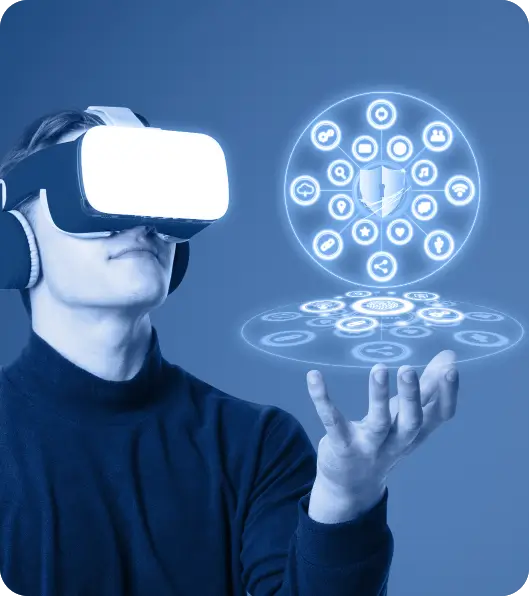 At Spericorn, we recognize that blockchain technology continues evolving, and businesses of all sizes must stay current. With a team of highly experienced blockchain developers, we are committed to assisting you in creating secure, efficient, and scalable blockchain solutions. Our comprehensive services encompass consulting, strategy development, application creation, and deployment, all tailored to your specific requirements. Whether you want to establish a private blockchain for your company or launch a public blockchain platform, we possess the expertise to help you achieve your goals successfully.
Ethereum Smart Contract
Ethereum is a decentralized blockchain that offers smart contract capabilities and operates as an open-source platform. The native cryptocurrency of Ethereum is Ether, which holds the position of the second-largest cryptocurrency by market capitalization, trailing only Bitcoin. With a high activity level, Ethereum is one of the industry's most actively utilized blockchains.
Solidity Smart Contract
Solidity is an object-oriented programming language developed explicitly by the Ethereum Network team to construct and design smart contracts on blockchain platforms. This language enables the creation of smart contracts that embody business logic and produce a series of transaction records within the blockchain system.
Why Choose Spericorn Technology as a top choice for your Blockchain development in Seattle?
Data Integrity
Data integrity is maintained within a Blockchain by storing each data piece across a decentralized network, making it exceedingly difficult to alter Blockchain data without being identified.
Enhanced Security
Our blockchain solutions offer robust security measures, ensuring sensitive data is accessible only to authorized personnel.
Consistent Uptime
With our blockchain technology, businesses can maintain continuous system availability, improving customer satisfaction and access to crucial information.
Decentralized Organizations
We empower organizations to embrace decentralized operations, fostering a more democratic and inclusive global economy.
Discovery
We begin each project with a thorough audit and objective identification, documenting the business case.
Planning
Our planning phase involves defining the project scope and assembling the team for seamless execution.
Execution
With risk identification and mitigation, we ensure the best coding techniques for successful implementation.
Support
Spericorn Technology provides comprehensive documentation and ongoing support for all our blockchain solutions.
Frequently
Asked Questions
What is a blockchain development company?
A blockchain development company, like Spericorn Technology, specializes in building and maintaining blockchain solutions on existing platforms. They offer front-end and back-end development, design, and support for blockchain-based technologies.
Is there a high demand for blockchain development?
The increasing need for decentralized financial solutions and blockchain integration across various industries has driven the demand for skilled developers.
What do blockchain development services entail?
Blockchain development services encompass designing and deploying decentralized applications (DApps), smart contracts, and customized blockchain solutions for specific industries such as finance, healthcare, and supply chain management.
What are the three foundational technologies of blockchain?
Blockchain technology relies on three fundamental components: the distributed ledger, the consensus mechanism, and smart contracts. These elements work together to ensure secure and transparent transactions.
What are the advantages of utilizing blockchain development services?
Blockchain development services offer numerous benefits, including enhanced security, transparency, trust, and data traceability within business networks. Leveraging blockchain leads to cost savings through increased operational efficiency and a shared, immutable ledger accessible only to authorized participants.
What is the best blockchain development service?
Spericorn Technology stands out as the premier blockchain development company in Seattle, excelling in projects of all sizes. Our expertise lies in delivering custom-defined, top-quality blockchain solutions tailored to meet specific business requirements.