Our Main

Blockchain Projects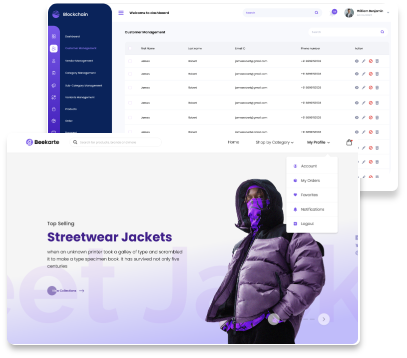 Spericorn Technology, the prominent blockchain development company in Philadelphia, introduces BitMarket, an advanced platform that merges cryptocurrency functionality with the digital shopping experience. Users can seamlessly make purchases using this popular digital currency by integrating Bitcoin. This innovative approach aligns with the transformative influence of cryptocurrencies on the financial landscape, revolutionizing financial transactions.
Learn more about BitMarket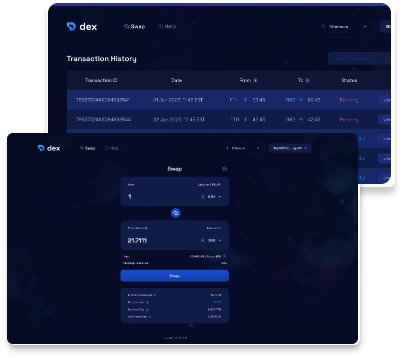 Dex, an advanced platform developed by Spericorn Technology, addresses the escalating global acceptance of digital currencies by offering a protected and efficient solution for cryptocurrency exchanges. Dex guarantees users a reliable and smooth experience when swapping various cryptocurrencies. Recognizing the mounting demand for secure digital asset exchanges, Dex pledges to provide a dependable solution catering to cryptocurrency enthusiasts and traders.
Learn more about DEX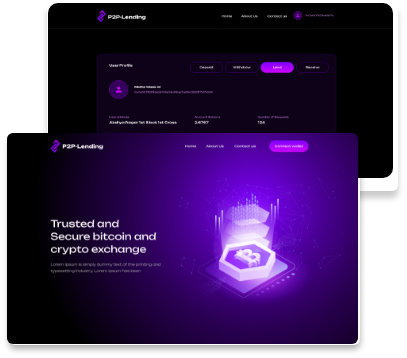 In the finance stream, Peer-to-Peer (P2P) lending has emerged as an alternative to traditional borrowing and lending methods. Integrating blockchain technology, Spericorn Technology has elevated P2P lending by enhancing efficiency, transparency, and security. With the potential of blockchain, our P2P lending platform fosters secure and transparent transactions between borrowers and lenders, instilling trust and efficiency. Spericorn Technology, the prominent blockchain development company in Philadelphia, has a wealth of experience in delivering exceptional solutions through this innovative technology. Our seasoned blockchain developers are adept at crafting secure, scalable, and efficient solutions tailored to client requirements. Our comprehensive services encompass consulting, strategic development, application implementation, and more. Whether for private business deployment or global marketplace integration, our experts assist in successful blockchain solution implementation.
Learn more about P2P Lending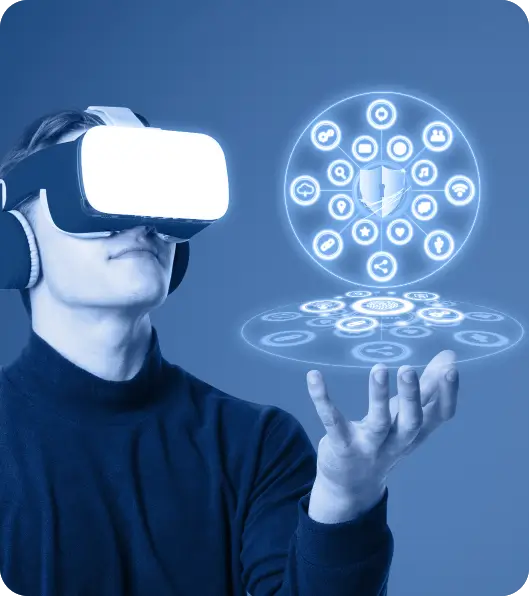 Blockchain remains a cutting-edge technology, necessitating businesses of all sizes to stay updated. At Spericorn, we provide a range of tailored development solutions for this innovative technology. Our team comprises skilled Blockchain developers who can assist you in creating a secure, streamlined, and scalable Blockchain solution. We offer comprehensive services, including consulting, strategy development, application creation, and deployment, designed to cater to your specific requirements. Whether you seek to establish an internal Blockchain for your organization or launch a public Blockchain platform, we are here to help you realize your objectives.
Ethereum Smart Contract
Ethereum, a decentralized, open-source blockchain platform, introduces smart contract capabilities. Within this platform lies Ether, the second-largest cryptocurrency by market capitalization. Ethereum serves as a prominent and extensively used blockchain network.
Solidity Smart Contract
Solidity, an Ethereum Network-developed programming language, is built for constructing and designing smart contracts on blockchain platforms. It empowers the creation of smart contracts aligned with business logic, generating a sequential series of transaction records within the blockchain ecosystem.
Why Choose Spericorn Technology for


Your Blockchain Needs?
Data integrity
Data integrity is maintained within a Blockchain by storing each piece of information across a decentralized network, making it highly improbable to alter Blockchain data without being detected.
Security by Design
Blockchain ensures meticulous data flow tracking and access restriction to unauthorized users, fortifying security.
Consistent uptime
Embracing blockchain assures uninterrupted system availability, ensuring constant customer access to vital information.
Decentralized Organizations
Decentralized operations possess the potential to revolutionize conventional business practices, fostering a more democratic and inclusive global economy.
Our Blockchain
Development Process
Initial Phase
Identification and review of business case documentation start with an in-depth project audit.
Planning
Project scope creation and identification of team logistics shape the planning phase.
Processing
Plan execution involves risk identification, mitigation, and implementing best code practices.
Support
The development process entails comprehensive documentation analysis and support.
Frequently
Asked Questions
What does a blockchain development company do?
A blockchain development company specializes in creating and implementing applications on existing blockchain platforms. They handle both the technical front-end and back-end development and tasks like design and ongoing maintenance of blockchain-based technologies.
Is there a demand for blockchain development?
There is a strong demand for blockchain developers. This is driven by the increasing need for decentralized financial solutions and the integration of blockchain technology into various industries.
What services are offered in blockchain development?
Blockchain development services encompass a range of tasks. This includes designing and building decentralized applications (DApps), creating smart contracts, and developing blockchain-based systems tailored to specific industries like finance, healthcare, and supply chain management.
What are the core technologies behind blockchain?
Blockchain technology is built upon three key components: the distributed ledger, the consensus mechanism, and smart contracts. These components work together to ensure secure, transparent, and decentralized transactions.
What are the benefits of using blockchain development services?
Blockchain development services offer multiple advantages. They enhance trust, security, transparency, and data traceability within a business network. By leveraging blockchain, organizations can also improve efficiency, saving costs. The technology provides a shared and unchangeable ledger accessible only to authorized participants.
What is the best blockchain development service?
Spericorn Technology stands out as a prominent blockchain development company in Philadelphia capable of handling projects of all sizes. They possess expertise in delivering high-quality blockchain solutions tailored to specific business requirements.