Our Major

Blockchain Projects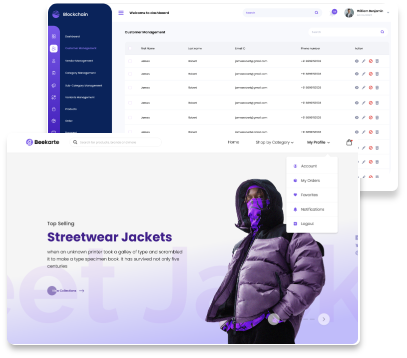 Spericorn Technology, a popular blockchain development company in Los Angeles, has introduced BitMarket, an innovative website that integrates cryptocurrency functionality to enhance the digital shopping experience. This groundbreaking platform allows users to make purchases using Bitcoin, aligning with the transformative impact of cryptocurrencies on the financial sector. By incorporating Bitcoin, BitMarket revolutionizes our perception of money and transforms how we perform financial transactions in the digital realm.
Learn more about BitMarket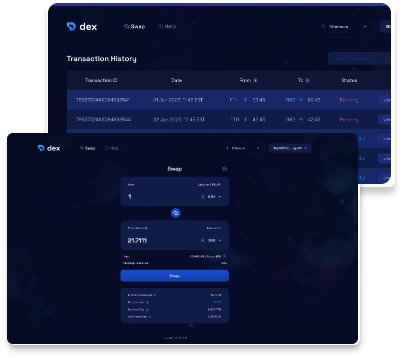 Spericorn Technology has developed Dex, an advanced platform designed to facilitate secure and efficient cryptocurrency exchanges in response to the increasing global acceptance of digital currencies. With the growing demand for reliable digital asset exchange methods, Dex provides users with a seamless experience of swapping various cryptocurrencies. It ensures the security and efficiency of these exchanges, catering to the needs of crypto enthusiasts and investors alike.
Learn more about DEX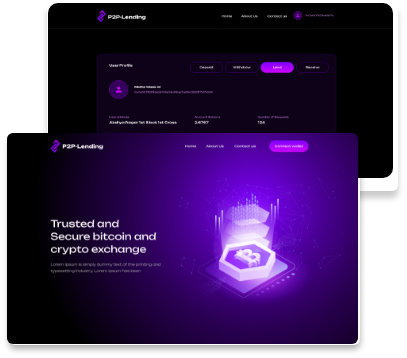 In the dynamic finance landscape, Peer-to-Peer (P2P) lending has gained substantial popularity as an alternative to traditional borrowing and lending practices. Spericorn Technology has capitalized on blockchain technology to create a P2P lending platform that leverages its benefits. With blockchain technology, the P2P Lending platform enables borrowers and lenders to engage in secure and transparent transactions. By promoting trust and efficiency in lending, Spericorn's P2P lending platform transforms how individuals borrow and lend money.
Learn more about P2P Lending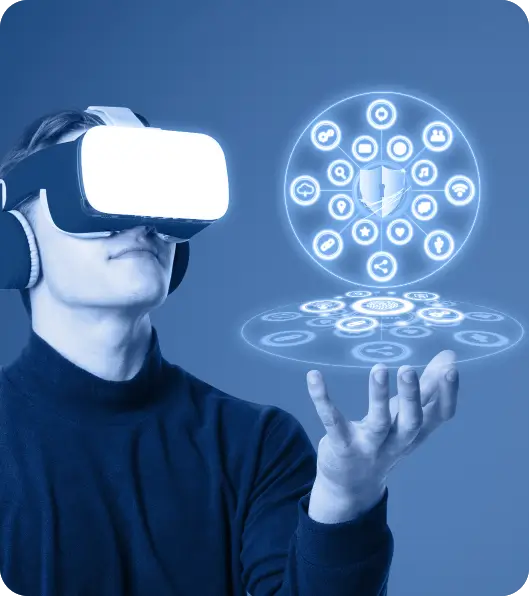 As blockchain technology continues to gain acceptance across diverse industries, Spericorn Technology, a leading blockchain development company in Los Angeles, is at the forefront of this evolution, rapidly providing secure, efficient, and scalable blockchain solutions. Our dedicated team is highly skilled in offering comprehensive project consultation, development strategies, and app development and implementation services tailored to meet the unique demands of our clients. Whether your business objective involves building a private blockchain for internal purposes or deploying a public blockchain platform, we are committed to delivering a seamless service that aligns with your specific requirements.
Ethereum Smart Contract
Ethereum, a decentralized and open-source blockchain platform, incorporates smart contract functionality. The platform operates with its native cryptocurrency called Ether and currently holds the position of the second-largest cryptocurrency by market capitalization, following Bitcoin. Ethereum is the most actively utilized blockchain network, facilitating various decentralized applications and transactions.
Solidity Smart Contract
Solidity, an object-oriented programming language developed by the Ethereum Network team, is designed to construct and create smart contracts on blockchain platforms. This language enables the creation of smart contracts that implement business logic and generate a verifiable chain of transaction records within the blockchain system. Solidity empowers developers to build secure and robust smart contracts, enhancing the functionality and reliability of blockchain-based applications.
What Makes Spericorn Technology a Top Choice of Blockchain Development Company in Los Angeles?
Data integrity
The decentralized nature of blockchain ensures data integrity by storing each piece of information across a network. This distributed approach makes it extremely difficult to modify or tamper with the data without detection.
Security by design
By leveraging Blockchain technology, businesses can implement robust security measures to track data flow and grant access only to authorized users.
Consistent uptime
Blockchain implementation empowers businesses to maintain consistent uptime, ensuring their systems are always operational and accessible to customers.
Decentralized organizations
The advent of decentralized organizations has the potential to revolutionize traditional business models, fostering a more democratic and inclusive global economy.
Discovery
During the initial phase of the project audit, the focus is on objectively identifying and reviewing the documentation of the business case.
Planning
The project scope is defined in the planning phase, and the team's logistics are determined.
Execution
The execution phase is critical and involves identifying risks, implementing mitigation strategies, and utilizing the best coding techniques.
Support
Spericorn Technology supports its clients, backed by comprehensive documentation, to ensure effective assistance and guidance throughout the project lifecycle.
Frequently
Asked Questions
What is a blockchain development company?
A blockchain development company is an organization specializing in providing blockchain solutions on existing blockchain platforms. Spericorn Technology, a renowned blockchain development company in Los Angeles, excels in offering comprehensive services such as front-end and back-end development, design, and maintenance of blockchain-based technologies.
Is there a high demand for blockchain development?
The growing demand for blockchain developers stems from the urgent need for decentralized financial solutions and the increasing integration of blockchain technology across various industries.
What do blockchain development services entail?
Blockchain development services encompass creating and deploying blockchain technology for diverse applications. These services involve designing and developing decentralized applications (DApps), smart contracts, and customized blockchain-based systems tailored to specific industries like finance, healthcare, and supply chain management.
What are the three foundational technologies of blockchain?
The three foundational blockchain technologies include the distributed ledger, the consensus mechanism, and smart contracts. These components work synergistically to enable secure, transparent, and decentralized transactions.
What are the advantages of utilizing blockchain development services?
Utilizing blockchain development services offers numerous advantages, including enhanced security, transparency, trust, and data traceability within a business network. By leveraging blockchain, organizations can achieve cost savings through improved operational efficiency and benefit from a shared and immutable ledger accessible exclusively to authorized participants.
Which is considered the best blockchain development service?
Spericorn Technology, a leading blockchain development company in Los Angeles, is highly regarded for its ability to handle projects of all sizes. They have exceptional expertise in delivering high-quality, custom-defined blockchain solutions catering to specific business requirements.