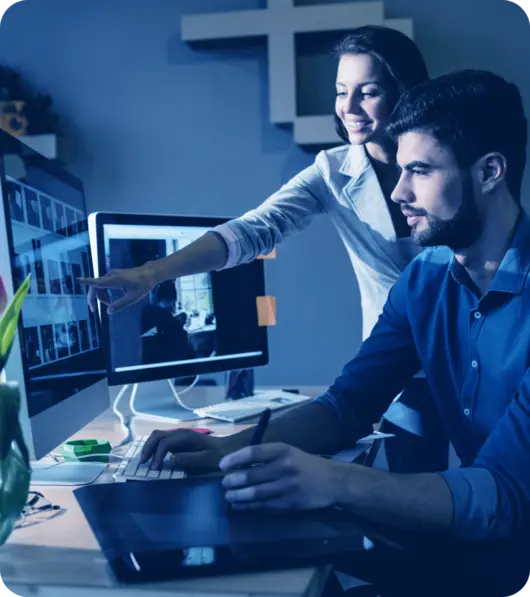 Make your business and customers happy with design thinking. Our designers, marketers, and thinkers break free from conventional thinking. Spericorns' proficient designers create strategic designs that complement customers' brands and help them accomplish their objectives. As an experienced web design company in the US, we help businesses grow across the web with our stunning and functional websites. We use the latest technology and creative style to build intuitive and engaging websites and assist you in establishing an online presence for your business. As a web design company, we ensure that you are satisfied with our high quality and efficiency standards. Our web designers and developers have extensive experience with this technology and provide effective solutions.
Discovery
Collaborate with the design team to enhance productivity, extend profits, public image, or changes in internal or external processes.
Product Research
Dive deep into user behavior, the business environment, and the product to gather the data needed to determine the best path forward for your product.
UX & UI Design
Decipher business requirements into real solutions and design seamless user interfaces that enable you to fulfill your strategy.
Branding
Develop a consistent language to communicate with customers and create a passionate bond between them and your brand
What Makes Us Special
As A Web Designing Company?
Design
Design seamless UX and beautiful UI for various platforms and devices
Idea validation
Create and validate prototypes design to reduce the risk of failure
Enhance conversions
Boost the number of sales and lead from your website
Streamline experience
Discover and fix bottlenecks in the user journey
Exclusive content
Give users exclusive information at the right time and right place
Refine website structure
Build intuitive and user-friendly navigation using the effective information architecture
Productivity
Create design systems to construct new visual assets in a blink of an eye
Brand Consistent
Design visual identity and brand assets for a variety of channels
Project setup
Ensure that the team has access to all the necessary information and assets
Empathize
Design a user-centric research process and determine the features of the product
Wireframing
Transfer your ideas into connected wireflows
Prototype
Create and verify solutions with potential users
Visual design
Craft delightful interfaces aligned with established insights
Development handover
Get ready to implement designs into working products
Adobe XD
Adobe Illustrator
Adobe Photoshop
Figma
Sketch
inVison Studio
Adobe Illustrator
Adobe Photoshop
Figma
Sketch
inVison Studio
Adobe XD
Adobe Illustrator
Adobe Photoshop
Figma
Sketch
Tech Stack We Love
Adobe XD
Adobe Illustrator
Adobe Photoshop
Figma
Sketch
inVison Studio
Tools
Adobe XD
Adobe Illustrator
Adobe Photoshop
Figma
Sketch
inVison Studio
Collaboration
Adobe XD
Adobe Illustrator
Adobe Photoshop
Figma
Sketch
inVison Studio