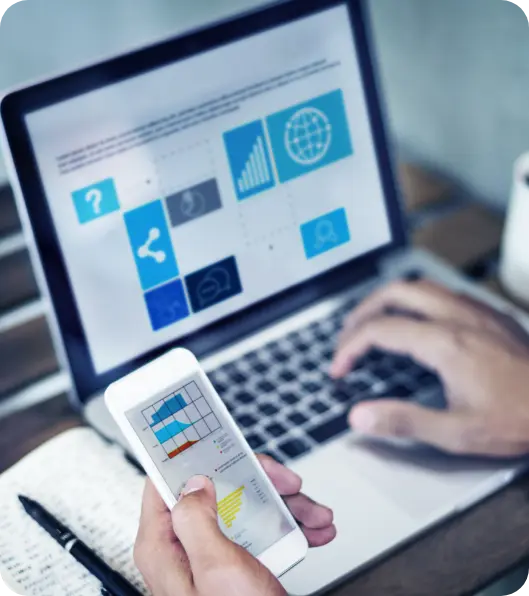 Embrace mobile technology and expertise to forge ahead on your digital transformation journey.
Spericorn acts as an end-to-end software development partner, serving as a trigger to your success. We deliver human-centric mobile app experiences that are valuable and meaningful to your end-users through a combination of smart consultation, game-changing strategies, sterling UI/UX design services, and the latest technologies. Our team helps you create an impactful mobile app that reflects your brand and sets your stage within a short time frame. We offer cross-platform mobile solutions and native, cloud support, KPI tracking and UX review, and attention-retaining applications, helping build easy-to-use.
Mobile App

Developement Solutions
Android Development
Our Android development team provides beautiful, scalable apps that enable businesses to gain a competitive edge in the mobile market.
iOS App Development
We built incredible iOS mobile applications from conception to implementation, delighting the audience using cutting-edge technology.
Hybrid Mobile App Development
Our hybrid Mobile App Development delivers robust, reliable and rich functional hybrid applications to market faster on major mobile application platforms.
React Native App Development
By taking full advantage of React Native, we help companies develop natively rendered cross-platform mobile applications.
Progressive Web Application
Fast, engaging and reliable progressive web app solutions with immersive user experience, silky-smooth animation, and load instantly.
App Development for Startups
Adapts and transforms innovative startup apps into ground-breaking enterprise applications.
What Makes Us Special
As A Mobile App Development Company?
Expansive
Expand reach and revenue with ease and speed
Exposure
Improve your image and stay in touch with customers
Loyalty
Reduce retention with strong mobile marketing and push notifications.
Tactics & processes
Analyze and gather data to highlight possibilities and sharpen efficiency
Product Discovery
Gain insight and understanding by conducting research
Product Design
Ensure that mobile apps are visually appealing, tailored, and have added value for users
Mobile app development
Create easy-to-use, intuitive, and user-friendly mobile apps
Cloud support
Using flexible MCC (mobile cloud computing) to deliver apps to mobile devices
Go-to-market strategy
Make a rich presence and deliver value through powerful planning
Customer Insights & Analytics
Explore mobile app data to improve tactics and boost conversions
AngularJS
React Native
Ionic
Mongo DB
Javascript
Swift
Dart
Xcode
React Native
Ionic
Mongo DB
Javascript
Swift
AngularJS
React Native
Ionic
Mongo DB
Javascript
Tech Stack We Love
AngularJS
React Native
Ionic
Mongo DB
Javascript
Swift
Dart
Xcode
Tools
AngularJS
React Native
Ionic
Mongo DB
Javascript
Swift
Collaboration
AngularJS
React Native
Ionic
Mongo DB
Javascript
Swift