The Smart Home app is a cutting-edge security solution that leverages technology to create a safer user environment. The app sends timely alerts to connected Bluetooth pairable devices, such as speakers, lights, smart watches or earphones, using motion detection capabilities. This feature lets users stay informed about detected motion, enabling quick responses and proactive security measures. Moreover, the app's unique factor lies in its unparalleled assistance for visually impaired and hard-to-hear individuals, providing frequent alerts and notifying them about the nature of detected objects.
Learn more about Smart Home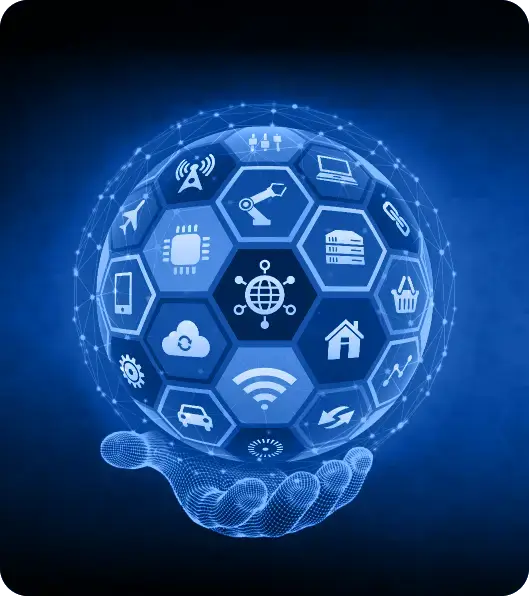 Spericorn has been developing IoT solutions for years and has the expertise to build a complete data ecosystem that can support your business in day-to-day operations. We offer a wide range of services, from developing apps and products to advising on business models and strategic innovations.
We live in the modern era, where everyday objects are linked through the internet. The Internet of Things is a network of physical objects and devices connected to the internet, specifically created to collect and share information. Today, the IoT is experiencing rapid growth across industries. When integrated with AI, IoT helps to improve industries according to different strategies and data-driven decisions. IoT development services help industries stay ahead of the competition.

Connect
Setting up an internet connection enables the capture of valuable information via remote access and ecosystem control.

Manage
Access data and manage devices in real-time through the live objects platform.

Predict
Industrial monitoring is a new way to predict any undesirable changes at work.
What Makes Us Special
As A IoT Development Company?
Crucial decision making
Using IoT analytics, you can get actionable insights right away.
High-level automation
Automate for operational efficiency and increased uptime using IoT analytics.
Easily accessible data
Construct the foundations of data analytics.
Perfect data infrastructure
Companies produce a deal of relevant data, but we identify which data needs to be prioritized.
Discover
Identify high-value business opportunities and create a strategy to achieve them.
Assess available data
Use the 5Vs (5Vs big data is a collection of data that combines data from different sources and describes them by five characteristics: volume, value, variety, velocity, and veracity and veracity) industry standard to detect Big Data quality issues and evaluate the significance of available data.
Assess business impact
The trade-off between the costs and advantages of the IoT analytics solution can be envisioned by charting impact versus feasibility.
Design
Create a solution for the business goal and determine how it will be integrated into existing processes.
Prototype
Implement a PoC for business goals and learn how it can be integrated into processes.
Deploy and improve
Ensure the highest level of fidelity in IoT analytics by deploying the data infrastructure and refining analytics confidence
AngularJS
React Native
Ionic
Mongo DB
Javascript
Swift
Dart
Xcode
React Native
Ionic
Mongo DB
Javascript
Swift
Tech Stack We Love
AngularJS
React Native
Ionic
Mongo DB
Javascript
Swift
Dart
Xcode
Tools
AngularJS
React Native
Ionic
Mongo DB
Javascript
Swift