Our Major

Blockchain Projects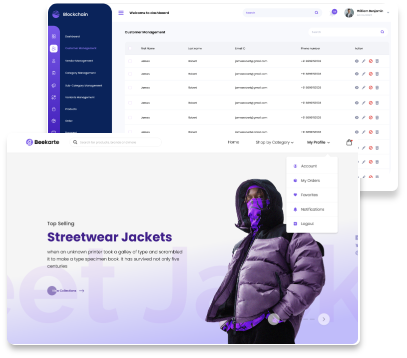 Spericorn Technology, the top blockchain development company in San Diego, has introduced BitMarket, a cutting-edge website incorporating cryptocurrency functionality, revolutionizing the financial sector and transforming our perception of money and transactions. This innovative feature enables users to utilize Bitcoin for their purchases, contributing to a remarkable digital enhancement in the shopping experience.
Learn more about BitMarket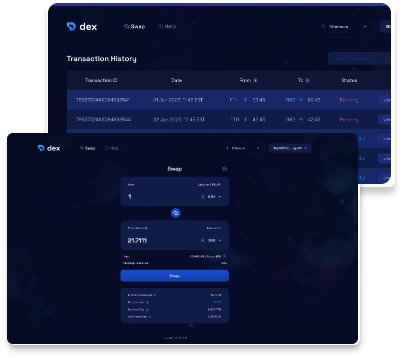 Recognizing the increasing global acceptance of digital currencies, Spericorn Technology has developed DEX, a secure and efficient platform dedicated to facilitating the exchange of cryptocurrencies. With a focus on reliability and seamless usability, DEX empowers users with a trustworthy solution for swiftly swapping digital assets.
Learn more about DEX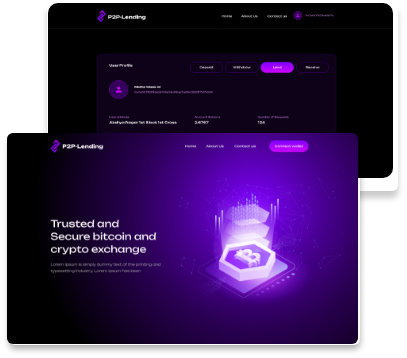 In the ever-evolving finance landscape, Peer-to-Peer (P2P) lending has appeared as a popular alternative to conventional borrowing and lending methods. Leveraging the potential of blockchain technology, Spericorn Technology has created a P2P-Lending platform that enhances efficiency, transparency, and security. This platform harnesses the advantages of blockchain, enabling borrowers and lenders to engage in streamlined, peer-driven lending transactions.
Learn more about P2P Lending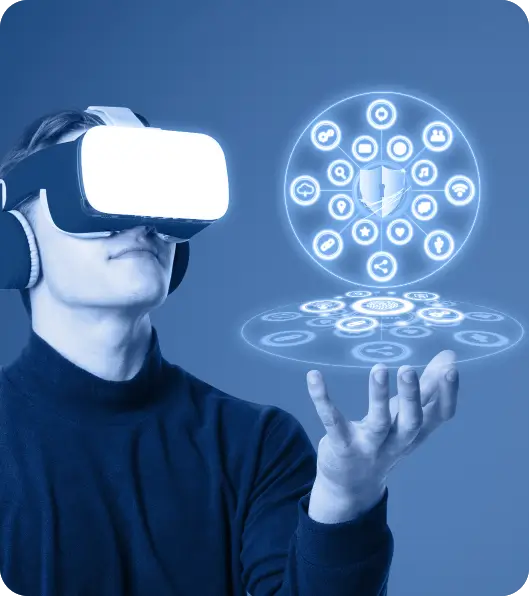 As blockchain technology evolves, businesses of all sizes must stay up-to-date. Spericorn has highly skilled and experienced blockchain developers who can assist you in creating a secure, efficient, and scalable blockchain solution. We deliver a comprehensive suite of services including consulting, strategy development, application development, and deployment to cater to your unique requirements. Whether you are interested in developing a private blockchain for your company or launching a public blockchain platform, our team is well-equipped to support you in achieving your objectives.
Ethereum Smart Contract
Ethereum is a decentralized and open-source blockchain that supports smart contract functionality. The platform has its native cryptocurrency called Ether and is presently the second-largest cryptocurrency by market capitalization, following Bitcoin. Ethereum stands out as the most actively utilized blockchain network.
Solidity Smart Contract
Solidity, developed by the Ethereum Network team, is an object-oriented programming language designed specifically for building and creating smart contracts on blockchain platforms. It allows the development of smart contracts that implement business logic and generate a sequence of transaction records within the blockchain system.
What Makes Us Special


As A Blockchain Development Company?
Data integrity
Each piece of data in a Blockchain is stored in a decentralized network. As a result, changing Blockchain data without being detected is nearly impossible.
Security by design
By using Blockchain, businesses track data flow and ensure that only authorized users have access to sensitive information.
Consistent uptime
By implementing Blockchain, businesses can ensure that their systems are always up and running and that their customers always have access to the information they require.
Decentralized organizations
Decentralized organizations have the potential to transform the way we do business, resulting in a more democratic and inclusive global economy.
Discovery
Beginning with a depth project audit requires identification and business case documentation review.
Planning
Create project scope and team logistics identification.
Execution
Plan execution includes risk identification, mitigation and best code techniques.
Support
As a result, the analysis provides comprehensive documentation.
Frequently
Asked Questions
What is a blockchain development company?
A blockchain development company is a company that specializes in creating solutions using blockchain technology. Spericorn Technology is a leading blockchain development company in San Diego focusing on building and maintaining blockchain-based technology.
Is there a high demand for blockchain development?
There is a strong demand for blockchain developers due to the increasing need for decentralized financial solutions and the integration of blockchain technology in various industries.
What do blockchain development services entail?
Blockchain development services involve creating and implementing blockchain technology for different purposes. This includes designing and developing decentralized applications (DApps), smart contracts, and customized blockchain systems for specific industries like healthcare, finance and supply chain management.
What are the three foundational technologies of blockchain?
Blockchain technology consists of three main components: the distributed ledger, which records transactions; the consensus mechanism, which ensures agreement among participants; and smart contracts, which automate and enforce the terms of agreements.
What are the advantages of utilizing blockchain development services?
Blockchain development services offer several benefits, including enhanced security, transparency, trust, and data traceability within a business network. Organizations can also achieve cost savings through improved operational efficiency and access to a shared and unchangeable ledger that only authorized participants can use.
Which is considered the best blockchain development service?
Spericorn Technology is a top blockchain development company in San Diego with a strong track record of offering high-quality, custom blockchain solutions to meet the specific needs of businesses of all sizes.